The 2021 Subaru Love Promise Customer and Community Commitment Award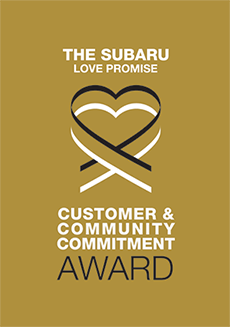 We've been nationally recognized for our dedication to our customers, our community, and the Subaru Love Promise.
We're honored to receive the 2021 Subaru Love Promise Customer and Community Commitment Award. This award nationally recognizes elite Subaru retailers who provide an exceptional customer experience at every interaction with Subaru. These retailers have also demonstrated an outstanding commitment to supporting passions and causes in their local communities in important areas such as the environment, community, health, education, and pets.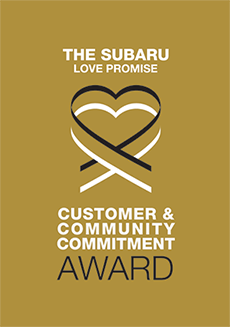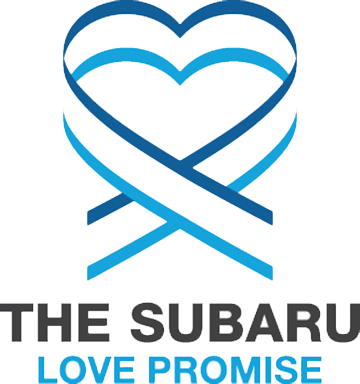 What is the Subaru Love Promise?
Subaru and our retailers believe in making the world a better place and the Subaru Love Promise is our vision of respecting all people. This is our commitment to show love and respect to our customers and to work to make a positive impact in the world.
How is Cannon Subaru dedicated locally to the Love Promise?
Our Love Promise can be seen in various partnerships with local charities and non-profit organizations. We're grateful for the opportunity, not only to be a part of our community, but to serve it as well.
Humane Society of Polk County
Polk Museum of Art, Highland City Elementary School
LVIM , Alliance for Independence, KidsPack
Love Promise Stories from Cannon Subaru
Subaru and Cannon Subaru believe in making a positive impact on the communities in which we live and work. We uphold that belief through our Love Promise Community Commitment. Every month, we select inspiring stories from customers and partners from around our area who strive to support our collective commitment and feature them here
Subaru feed over 300 students! - Patty S
COVID was hard for the world, but for children, who are the quintessential definition of a dependent, this pandemic caused child hunger to rise to an all-time high, doubling the children in Polk County who needed help in finding their next meal. Cannon Subaru reached out to us the minute the schools shut down. They knew that our children still needed to be fed and they not only helped monetarily when food costs rose, but also volunteered in our warehouse and helped to deliver food to alternate locations that were near the neighborhoods where our children live. Through kidsPACK and through the Subaru Share the Love program and the Cannon Subaru donations we are able to add new children to the program so even if they move, the weekend meal follows them. The support we receive from Subaru and Cannon Subaru funds these changes so food the child receives is not interrupted AND no child is put on a waiting list!
---
KidsPACK - Patty S
There is a raging epidemic that negatively affects thousands of local children, and most of us are completely unaware of the crisis. Today there is over 4,000 registered homeless students attending our local Polk County schools. This enormous number means that 1 in every 7 children in Polk county and in counties throughout Florida suffer from a lack of food. When Canon Buick and Subaru learned about this issue, they took action and with their contributions supported 60 hungry students in Polk County School System for one year. In addition to their monetary donations, Canon Buick and Subaru employees volunteer each month with kidsPACK to pack over 500 meals so our needy children will have food over the weekends. When schools were out due to the pandemic , Cannon Buick volunteered to deliver kidsPACK to drop off points throughout Polk County to ensure that our children continued to be feed even though logistics had changed.
---
Cannon Subaru Shares A Little Love! - Lisa B
Mr. Cannon and his employees at Cannon Subaru have a deep love and commitment to the community. We had the pleasure to partner again with Cannon Subaru for our Share A Little Love adoptions. This year brought us and many members of the community a lot of joy and love! This is just one of the many adoption stories we have from our adoption events at Cannon Subaru. Camo and Griff were originally adopted from animal control together. Their owner was so happy to adopt them and thought he would be their forever home. As luck would have it, the owner's landlord changed his lease agreement and he could no longer keep his beloved pets so he surrendered them to us in hopes they would be adopted together. We told him we would do our best but did not make any promises. We brought the boys to the offsite adoption at Cannon Subaru. Everyone at Cannon Subaru was eager to assist us by taking pictures to share them on the Cannon Subaru Facebook page. The local Subaru Ambassador was there sharing on her web page too. A family saw Camo one of the dogs posted online and came to the dealership for a meet and greet with their family. When they found out that Griff was his brother they adopted them both! Because Cannon Subaru is committed to helping our community this adoption was made possible. Now Camo and Griff are still together and also have a cat in the family too! Cannon Subaru posted pictures of our pets each day of the month encouraging the community to adopt a pet to save the lives of countless homeless animals. We look forward to an ongoing partnership with Cannon Subaru and will be working together throughout the year by sharing adoptable pets and offsite adoptions. Thank you Cannon Subaru for your support and Sharing a Little Love!
---
Cannon Subaru Loves Schools - Sara V
Cannon Subaru continues to be a huge supporter of Highland City Elementary School. Several times in the past few years, they have donated science books, 250 at a time, to our students. These science books help our students connect their foundation in science while building their love of reading. Annually, Cannon Subaru donates boxes filled with school supplies, which go directly into the hands of our students. This not only helps them while they are at school, but it relives a financial burden for their families. In our school garden stands beautiful planters made of recycled plastic milk cartons, which were funded by Cannon Subaru. Another project they supported financially, was turning 160,000 plastic bottle caps into garden benches that still sit in our courtyard and are enjoyed by students and their families. When we have our carnival fundraiser each year, we can always count on Cannon Subaru to provide tents and additional goodies for the event. Even during our distance learning due to the covid-19 pandemic, Cannon Subaru showed support by providing our staff members with balloons to attach to their cars, which bought cheer to students during a socially-distant parade. Again, and again Cannon Subaru has shown Highland City Elementary that education is a priority, and we are thankful for their priceless partnership.
---
Cannon Subaru SAVING LIVES! - Alice K
In 2019, Cannon Subaru became a sponsor of Lakeland Volunteers in Medicine's Swan Derby, LVIM's annual signature event. The Swan Derby draws a community together, provides family friendly fun, and raises unrestricted revenue for the organization to provide primary medical, dental and mental healthcare to the working uninsured in Polk County, FL. Through their sponsorship, Canon Subaru's donation was turned into primary healthcare visits for 50 individuals! One LVIM patient says, "LVIM restores my faith that there is still good in the world." Cannon Subaru does the same. Thank you, Canon Subaru, from all of us at Lakeland Volunteers in Medicine.
---
kidsPACK and Cannon Subaru make a Lasting Impact - Amy R
For the third year in a row, Cannon Subaru has selected kidsPACK during their Subaru Share the Love Event and we couldn't be more grateful! The Cannon Family and employees have graciously supported kidsPACK, a local non-profit dedicated to feeding homeless and food insecure children when school is out, by holding packing events, publicly bringing awareness to the issue and making a $25,000 donation in 2019! The Subaru Share the Love generous donation allows kidsPACK to provide an additional 4,316 meals to children, identified by our teachers, so we can come together as a community to feed their minds, their tummies and hopefully provide them a way out of poverty.
---
Alliance for Independence - Dan B
For over 65 years The Alliance for Independence has delivered educational, vocational, social and living skills to individuals with developmental and intellectual disabilities striving to be integral and productive members of our community. We strive every day to provide these individuals with avenues to explore and experience personal growth and achievement through awareness, education, community resources, and personal relationships. One of our key partners in our community has been the Cannon family and Cannon Subaru. Through their generous ongoing support of our Swing for Independence Golf Tournament, as Main Stage sponsors of the Wine Festival of Central Florida, and humbly agreeing to act as Honorary Chairs of our Annual Community Dinner, They have helped provide the critical resources necessary to allow us to provide high quality, meaningful services to literally thousands of individuals in our community. We literally could not do what we do without their help. Thank you Cannon Subaru for sharing the love!
---
Polk Museum of Art and Cannon Subaru - Pal P
Cannon Subaru LOVES the arts and this community! Danny and his team have been part of our Mayfaire by-the-Lake family for four years. Not only are they one of our sponsors for Mayfaire - one of the top 50 fine art festivals in the country drawing over 70,000 visitors annually - but they engage in our mission. One year the focus of their efforts was to raise scholarship funds to help young people in financial need attend one of our classes or camps. You will see the Cannon Subaru team at the lake every year. Through their support, they help us sustain one of the community's signature Mother's Day weekend events - an event that draws visitors from outside our region and brings great economic value to our community. Cannon Subaru serves our community and helps bring us together.
---
LLS & Cannon Subaru - David W
Danny Cannon, his wife and family met us at the Watson Clinic for the blanket delivery. We were greeted with smiles from the staff at Watson. The patients were so excited to receive their blanket and notes of inspiration. Danny, his wife, LLS and the Watson staff were humbled by this experience. We had additional help from the wonderful group Wings of Teal, Ovarian Cancer Support Group.
---
Subaru - KidsPack - Patty S
Over 3,000 homeless, hungry children attend Polk County schools - 1 in every 5 student is homeless. Cannon Subaru's love promise brought ease to a child's hunger pangs, warmth to their heart. Their employees partner with us to pack 300 meals/month. On top of this physical contribution of time and manpower, through the Subaru Love Promise, they awarded us a check for over $25,000. A child battling the effects of hunger has trouble concentrating, can experience behavioral issues including anxiety and aggression - this is a recipe for emotional and academic stress. Free school breakfast/lunch programs provide relief - but what about the weekends when the cafeteria is closed? At kidsPACK, we provide meals sent home in a discreet backpack to supplement or replace meals at home for hungry children. With 599 on our waitlist, we have more work to do, but Cannon Subaru is an amazing partner in our battle to bridge the gap of child hunger in our local community. Thank you Cannon Subaru - we feel your love!!
---
Highland City Elementary Subaru Loves Learning - Amy W
Cannon Subaru donated $1,200.00 worth of Science books to Highland City Elementary School during the Subaru Loves Learning event. These Science books are an excellent addition to our Science Lab and Science classrooms. The books will give our students the opportunity to read about Science content that is connected to the Florida Standards. Will Kuhlman, Sales Manager presented books to Ms. Weingarth, Principal, and Shauna Bergwall, Assistant Principal. We appreciate and thank Cannon Subaru for partnering with our school. Thank you for taking an active role as part of our Highland City Elementary community.
---
Cannon Subaru shows some love to SPCA Florida - Paula C
The relationship between Cannon Subaru and SPCA Florida goes beyond the financial support or collaborative marketing efforts. The relationship is about community. Cannon Subaru is an organization that understands the importance of making a real and substantial impact for those in need. For some time now Cannon Subaru has shared advertising space with the SPCA Florida homeless animals. This additional exposure for the animals has reduced the length of the shelter stay for many dogs and cats. SPCA Florida exists to eliminate animal suffering and to engage the entire community in the welfare and well-being of animals. We accomplish this by advancing model programs to promote the adoption of healthy animals, prevent dog and cat overpopulation, provide veterinary medical services for animals in the community and keep animals in homes through relinquishment intervention strategies.
---
Subaru Loves Pets SE Guide Dogs Walkathon - Callan C
On March 19th, Cannon Subaru was proud to be a sponsor of the first ever Southeastern Guide Dogs - Polk County Walkathon, held on beautiful Lake Hollingsworth. The event had over 500 participants and volunteers, and helped raise over $47,000 for this great cause. Founded in 1982, Southeastern employs the latest in canine development and behavior research to create and nurture partnerships between visually impaired individuals and extraordinary guide dogs. Southeastern places more than 100 dogs each year into careers benefiting people with visual impairments and veterans. They now have matched over 2,800 of the nation's finest guide dogs with students whose lives are changed forever after they leave the school, and 100% of their expenses are paid, as Southeastern provides all of their services free of charge and receives no government funding. It costs visually impaired students nothing to take home a guide dog, because of the generosity of people like you that contribute to this very worthwhile event. Subaru and Cannon Subaru are committed to this effort and plan to be a sponsor again next year, so please, come join us.
---
"Share the Love" campaign helps local seniors - Steve B
Over the past two years, Cannon Subaru in Lakeland has donated more than $20,000 to Volunteers in Service to the Elderly (VISTE) to help meet the needs of seniors throughout Lakeland, Bartow, Mulberry, and Ft. Meade. During Subaru's "Share the Love" campaign, local Subaru dealers give their customers the option to donate $250 to their charity of choice, or the dealer's choice of charity. We are proud of Cannon Subaru for choosing VISTE as their charity of choice in support of our mission to keep the community's elderly safe and independent in their own homes. Many seniors are in need of transportation services, largely medical in nature. It seems most fitting that through the "Share the Love" program new car buyers are given the opportunity to support VISTE's transportation services that last year alone provided more than 12,000 trips to 839 seniors. For many, the ability to access these services for medical, grocery, and other related trips plays a critical role in their ability to remain safely and independently in their own homes. On behalf of the nearly 4,000 seniors we serve, VISTE is most grateful to Cannon Subaru for supporting our mission, and is proud to identify with them as a community partner!
---
Subaru Loves Learning Book Drive August 1 - 31 - Danielle S
Join us in our Subaru Loves Learning initiative during the month of August! We are partnering with the American Association for the Advancement of Science (AAAS) in donating science books to James E. Stephens Elementary School in the Polk School District. All of the books that will be donated have been recognized by AAAS as some of the best science books in their field. Contact us to learn more information.
---
Subaru Loves the Earth - E-Waste Event - Danielle S
We would like to thank our customers for participating in our E Waste Recycling event during the month of April. With your help, we were able to prevent 2,090 lbs of carbon emissions from polluting the atmosphere. This is equivalent to saving 81 trees, 356 gallons of gasoline, 3,030 plastic bottles, and 13,936 aluminum cans. Thank you for helping strengthen the Subaru Love Promise!
---