The highly anticipated new Subaru Impreza is finally here! Come join us on Thursday, February 23rd from 6:00 to 8:00PM for our release party that is sure to be a blast. Here at Cannon Subaru, we could not be more excited for this event. Of course, we will show off the new Impreza cars and discuss all of the awesome features that have been added. Check out the video below to catch a glimpse of what this amazing car has to offer.
As if you need any more motivation to attend, we are hosting a craft beer tasting during the event, courtesy of Lakeland Brewing Company! In addition, we'll be handing out Subaru merchandise and serving appetizers and refreshments.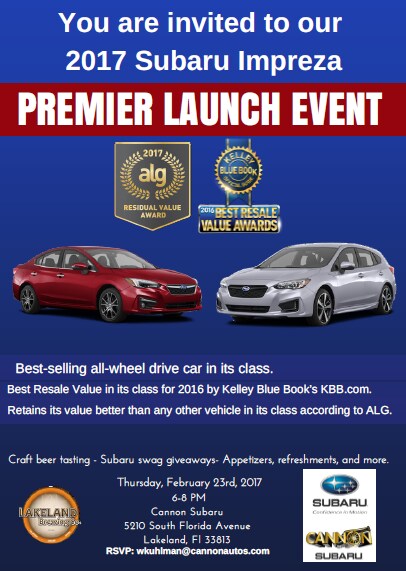 At Cannon Subaru, we pride ourselves on providing consistently excellent service and have countless happy customers throughout Florida. We are located at 5210 South Florida Avenue in Lakeland and hope to see you here for the launch event! If you know you will be attending, we would greatly appreciate it if you would send an RSVP email to wkuhlman@cannonautos.com. So come enjoy some free Subaru swag, craft beer tastings, and see for yourself why the new Impreza is the best-selling all-wheel drive car in its class!